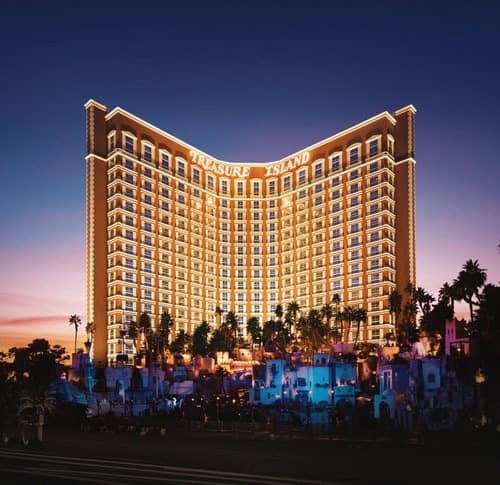 Nevada Okays Online Poker Deal For 888 and Golden Gaming Through Treasure Island
It was announced on September 13 that the preliminary approval was given for the partnership formed by offshore online poker operator 888 Holdings and Las Vegas' own Golden Gaming. The company formed by the agreement will deliver online poker for Nevada residents and visitors, which must either head to the physical Treasure Island property or sign up at that resort's website for online poker play. Golden Gaming offers the physical property and will supply any hardware that is needed at the Treasure Island resort, and 888 will handle running the actual website and software.
Golden Gaming is well known in Las Vegas, currently managing 40 taverns there, as well as 3 casinos in Pahrump, located 60 miles outside of Sin City. The Las Vegas Review-Journal reported the approval by the Nevada Gaming Commission (NGC), which will be finalized on Sept. 26. The move comes only months after 888 and Treasure Island were approved for interactive gaming licenses by the NGC in March of this year. There is no particular date for the website launch, but Nevada currently offers online poker through similar website casino properties, and the announcement of this agreement would not have been made if both parties are not ready to deliver online poker.
You may recall that 888 recently signed an online poker deal with Caesars Interactive Entertainment and slot machine manufacturer WMS Industries in Nevada, and the company has been managing online gambling and online poker websites for years outside of the United States. What this means for the Nevada poker player is simply one more outlet for legal online poker if he or she is a resident of or visitor in Nevada. That state's Gaming Control Board and Gaming Commission recently discussed changes which will need to be made to the current legislation which provides online poker, in the hopes of allowing interstate contracts to build up the Nevada player pool.
New Jersey has already passed legislation which would allow it to share its player pool with other states legally offering online poker, and with Nevada looking to become the second state in the US to allow multi-state online poker player pools, a launch of the new 888 and Golden Gaming online poker property is bound to happen quickly. The states and companies offering online poker in the US are not the only ones to benefit from a multi-state compact.
Doubling or even tripling the size of an individual state's poker playing pool means that tournament entrants will have larger pools of prize money, and your favorite tables will always have decent traffic no matter what time of day or night you log on. Also, when two states agree to combine their player pools, and an experienced and respected company like 888 Holdings handles the software end of the business, when that player travels to either one of those states he or she can expect a familiar user interface and banking suite. Nevada Governor Brian Sandoval is all for any legislation that would make online poker for Nevada residents a better experience while bringing the state more money, and says the necessary legislation providing multi-state online poker compacts could be passed as early as next month.