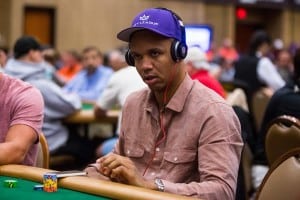 World Series of Poker 2014 Day 1 Update
The World Series of Poker is annually the biggest poker Festival of the last 40 years. The 2014 WSOP main event kicked off on July 5, 6 and 7, with those initial opening rounds labeled as Day 1a, 1b and 1c. After Day 1c action was complete, a popular and familiar professional poker player found himself near the top of the chip counts. Phil Ivey closed out Monday's Main Event action with a chip stack of 187,025. Ivey is widely considered one of the best players in the world. Professionals and amateurs alike playing in this year's World Series of Poker Main Event are surely not happy that such a talented and dangerous Hold 'Em player has such a massive stack of chips after just one day. After the initial round of play, Eric Tracy held the chip lead at 206,175.
WSOP Gives 25 Vegas Online Poker Players a $10,000 Main Event Seat
The WSOP Internet poker site regulated by the state of Nevada at the last minute last Saturday threw a $250,000 guaranteed event. A $215 entry fee got you a chance to win one of 25 guaranteed entries into the WSOP Main Event. The tournament attracted 1,235 poker hopefuls, all with an eye on securing a Main Event chair valued at $10,000. The online poker tournament lasted nearly 10 1/2 hours, with WSOP.com regulars CindrllaMan and Peaches each securing one of the top 25 spots. Among those Main Event winners were predominantly names not seen in the usual weekend tournament action offered by WSOP. This is no doubt due to the Grinder's Room which was set up specifically to cater to Las Vegas online poker players attending the WSOP this year, as well as the huge influx of international players the tournament attracts.
6,683 Main Event WSOP Entries Fighting for 693 Cash Prizes
The Monday installment of Day 1 action counted 3,768 players entering the Main Event on that day alone. That total is the largest to ever attend a Day 1 flight. The three-day total equaled 6,683 players for an increase over last year's numbers, the first time since 2010 that there was an upgrade in entries from one year to the next. First prize is guaranteed $10 million, and the prize pool has already created $62.8 million. The top 693 finishers will each get a slice of that huge figure. The November 9 that make up the final table later this year are all guaranteed at least $730,725 each. A few more interesting numbers from this year's main event include players hailing from 83 countries, an average age of 39.28 years, with only 282 female contestants (4.2% of the field).
4,504 Left After WSOP Day 1
After the three-day Day 1 action was concluded, the field had shrunk from 6,683 to just 4,504 players. Phil Ivey already claims 10 WSOP bracelets, and his early and impressive chip stack is a good indicator he could make a deep run this year. Poker professional Martin Jacobson has never won a bracelet, but claims more than $4.7 million in WSOP winnings. He left Day 1 with 200,100 in chips, and Trey Luxemburger heads into Day 2 with a stack of 193,450. Professional and fan favorite Daniel Negreanu compiled a respectable 129,250 chips in Day 1 action. Russian Artem Litvinov has won over $1 million in previous WSOP tournament action, and is sitting on top of a big stack of 142,475. NFL defensive tackle Richard Seymour joined NBA player Paul Pierce and actor James Wood as celebrities making an appearance.
From Chicago to Vegas in 3 Blackjack Hands
The most incredible story to come out of this year's WSOP thus far has to be the amazing journey of Chicago amateur Paul Bianchi. The Windy City resident played a winner-take-all poker game with some friends Friday night. 5:30 AM EST on Saturday he emerged the victor with $1,200. Hitting a local casino with literally minutes left before they closed, Bianchi only had time to play three hands of blackjack. He doubled up to $2,400 on this first hand, won the second hand for a total of $4,800, and then bet it all. He won the third and final blackjack hand, giving him $9,600 total. The home poker game crew realized that they were ever so close to sending one of their buddies to Nevada and the 2014 WSOP Main Event, so they scooped together enough money for airfare and lodging, covered the $400 difference for his entry, and he hopped on the next plane to Las Vegas. From Chicago to Las Vegas with no sleep, Bianchi slid into his Main Event chair with minutes to spare. We will keep you updated on Mr. Bianchi's progress, as well as the rest of the action in this year's WSOP 2014, so check back frequently.